Get a quick snapshot of candidates or jobs that need the most attention and see your upcoming interviews.
At the top of the Wall, you will see a Wall Summary:
The summary will show you a snapshot of:
Interviews: See previous and upcoming interviews with the new calendar view.
Job Health Status: View the status of your jobs based on a Red/Yellow/Green color scheme
Candidate Freshness by Stage: Quickly see how many candidates are aging in specific stages
Interview Calendar
The interview calendar will show interviews across all candidates who are visible to you on the wall. You can click the caret icon to expand the interview to a full browser view:
On the calendar, blue events indicate the interviews where you are an interviewer. White events indicate the interviews for other team members.
If you click an interview, a window will appear with additional candidate details and options to reject the candidate or compose a note directly from TalentWall.
Completed interviews will show the following scorecard statuses: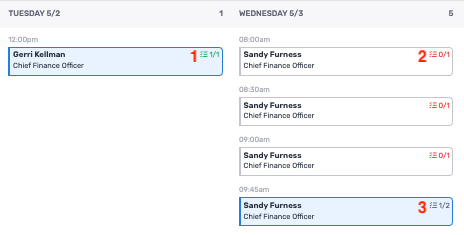 Green = All scorecards for the interview have been submitted.
Red = No scorecards for the interview have been submitted.
Grey = At least one scorecard has been submitted, and one or more are outstanding.
Future interviews will show the following interviewer statuses: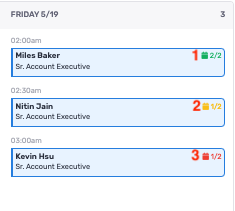 Green = All interviewers accepted the invitation.
Yellow = At least one interviewer accepted the invitation, and all remaining interviewers have not yet responded.
Red = One of the following three options: at least one interviewer declined, at least one interviewer responded "maybe," or no one has responded yet.
In order for interview statuses to be recognized by TalentWall, your ATS instance must be configured with a scheduling integration (e.g. Google Calendar, Calendly). Otherwise, interview responses will not be tracked in the ATS and cannot be pulled into TalentWall.
Job Health Status
The Job Health Status widget aggregates your jobs based on their assigned color status. You can click into each color segment to understand which jobs require more urgency over others. To assign a job with a specific color, you can edit the status by navigating to the individual job on the wall: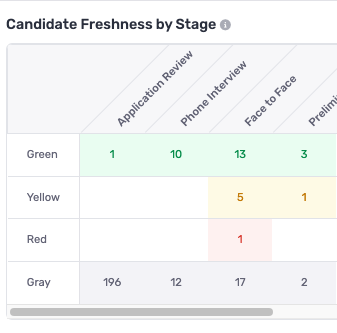 Candidate Freshness by Stage
Candidate freshness allows you to immediately see which candidates are aging based on their last activity. A TalentWall admin can set each color's time limits from Settings > Customize > Activity Color Settings.
On the widget, you can click on each cell to view all candidates who fall in the freshness category by stage. You can also hover over each color label to see the set time limits for each color.