Set up your hiring goals and customize colors to indicate the health status of open jobs and active candidates.
Only TalentWall admins will be able to set hiring goals and thresholds in the Executive Dashboard. To get started, click on the gear icon at the top:

You'll see a list of your departments with yearly, quarterly, and monthly fields: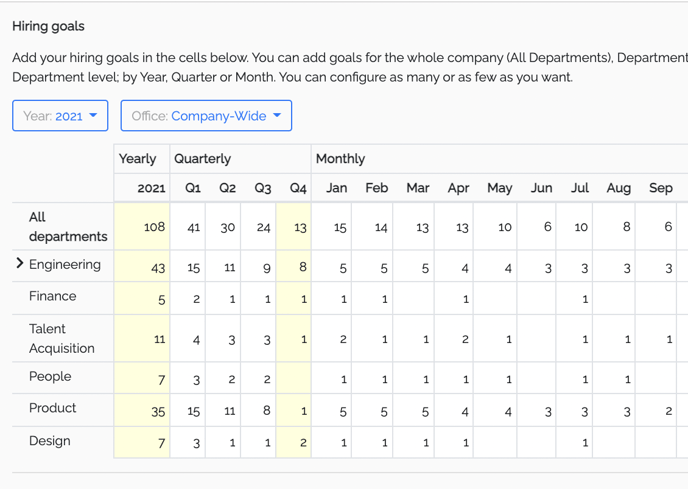 Here are the metrics and thresholds you can also set:
Hiring goals - Configure yearly, quarterly, and monthly goals for each department here
Projected Hires coloring: Set your color-coded thresholds so your Projected Hires field becomes yellow or red at a number that you set.
Days Open coloring: Days Open field becomes yellow or red after "X" amount of days.
Target hire days for all jobs: Set your target days to hire after the open date. You can also set up color-coded statuses to red or yellow when your Target Hire Date field is "X" days away from your Target Date.
Job Stages coloring: Set a % value for each stage and when conversion rate is below this value, percentage becomes yellow or red.
Once you've set all your metrics and thresholds, just click on Save at the bottom, and you can see how the colors are displayed for each role: