Know exactly how you are tracking toward your hiring goals for the whole company with the Executive Dashboard.
The Executive Dashboard is a bird's eye view of how you're tracking toward your hiring goals without the granularity of candidate details from the Wall. You'll see a summary of your hiring goals by month, quarter, and year, followed by an aggregated view of all your roles' pipelines. Drill down on the roles you want to see by department, office, hiring team member, or by specific jobs using the filters at the top:


To configure hiring goals, click on the "Set Goals" gear icon at the top. A calendar grid will appear and you can add hiring goals for the whole company (All Departments) or at the Department level; by Year, Quarter or Month. You can configure as many or as few as you want:
Below the visual summary, you'll see Job Status charts which gives a quick view of jobs that need the most attention:
You and your team can work collaboratively to determine the job status as you see fit, depending on what is happening in the pipeline each week. To edit the job status, click on the pencil icon on the roles that are below the Job Status charts: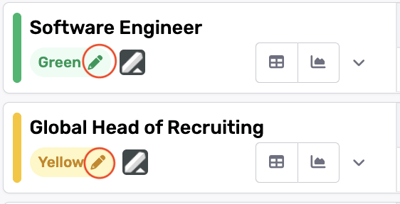 Then select the appropriate color to signify the health of the pipeline, using a criteria determined by you and your team:




You can view the job's analytics by clicking on the chart icon near the title of the role:


Then you'll be able to the active, advanced, and rejected candidates at every stage, and the pass-through rate between stages:



The bar in each stage is segmented by active, rejected, and advanced candidates. Clicking on a segment will bring up the candidates names in a pop-up window.