Funnel Segmentation allows you to analyze EEOC response data to understand your pipeline diversity. It is necessary to have EEOC and Demographic information enabled on your account to have access to Funnel Segmentation.
You will find the Funnel Segmentation section within the Executive Tools module.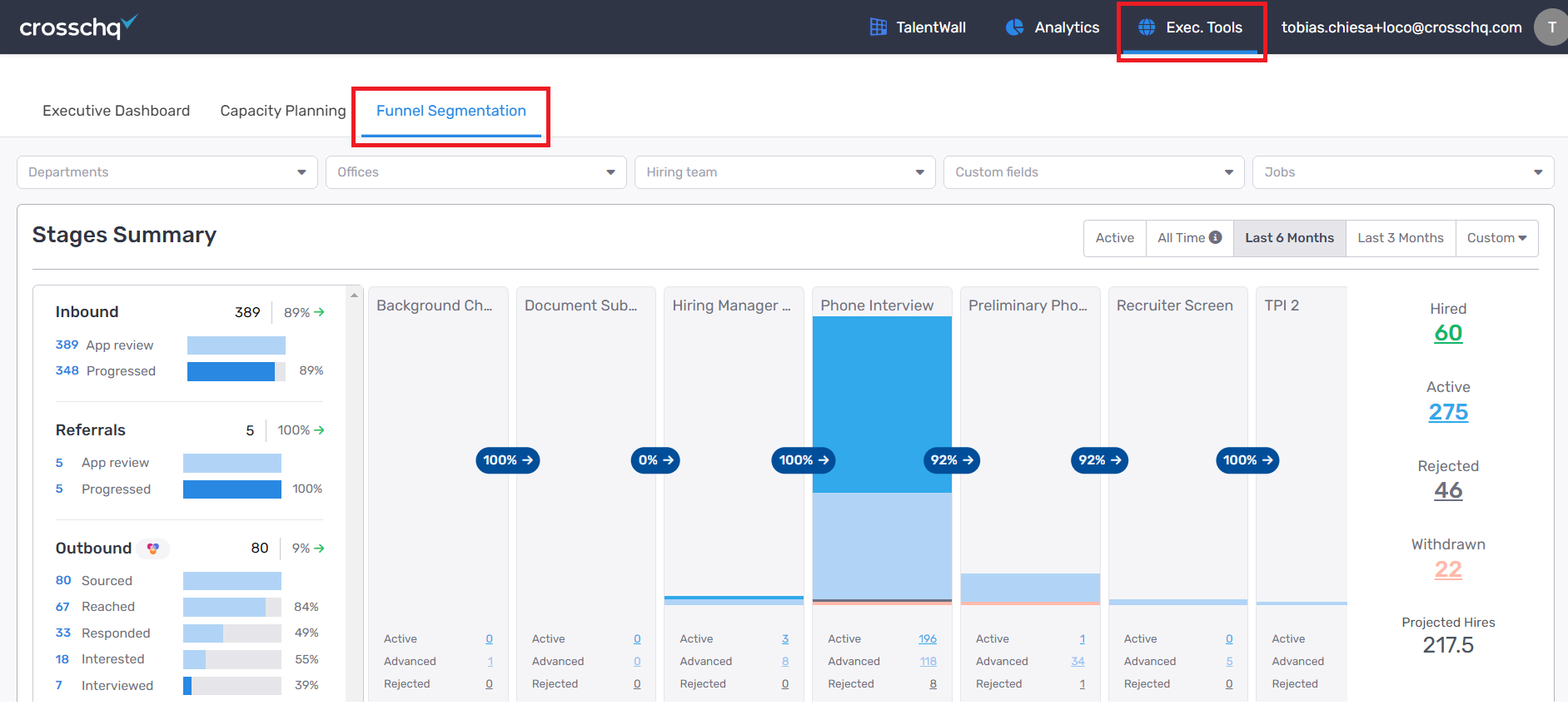 Drill down on the roles you want to see by department, office, hiring team member, custom fields, or specific jobs using the filters at the top.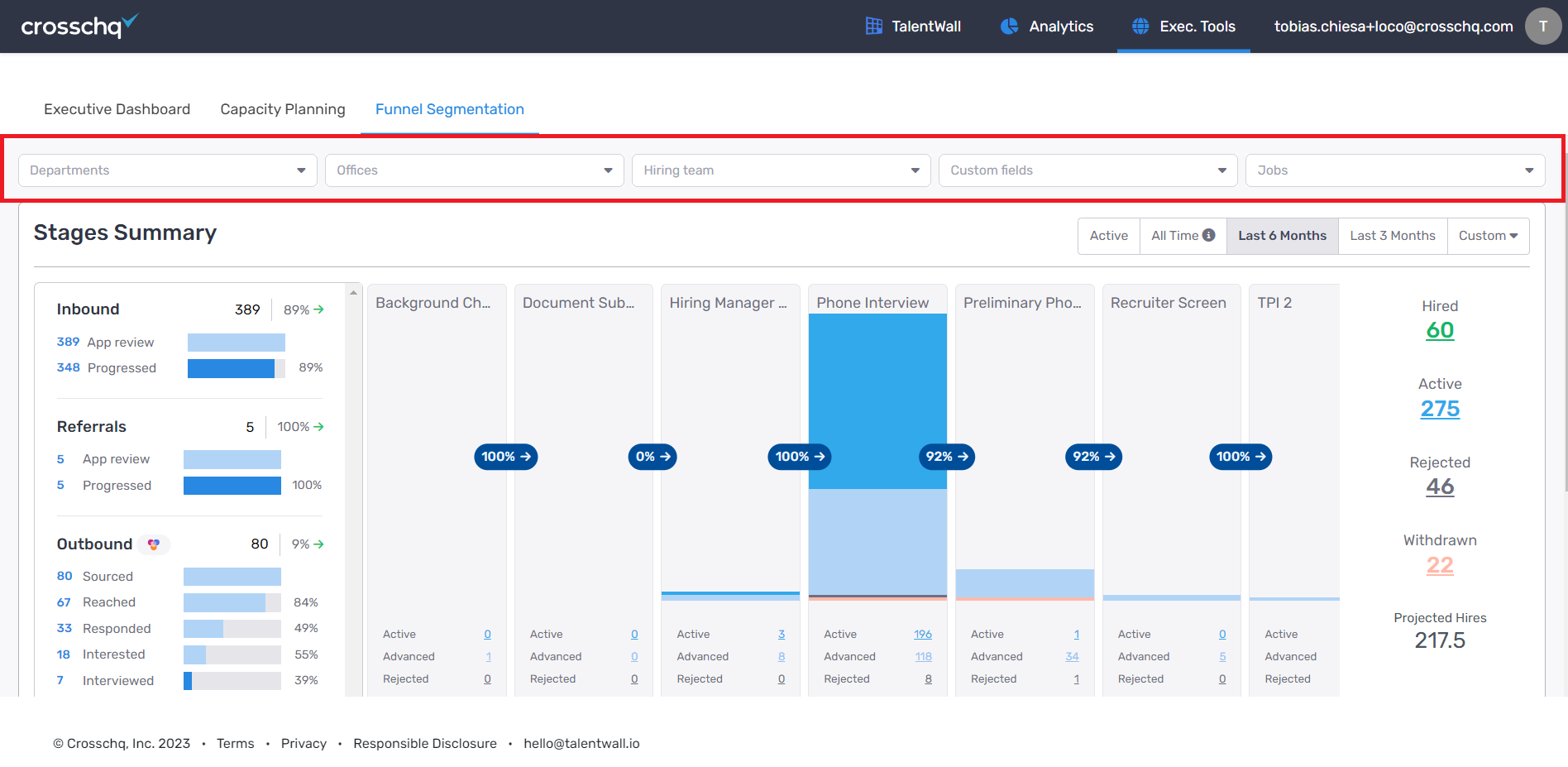 Stages Summary
Quick display of pipeline status
The pipeline from your Stages Summary will display candidates across all of your jobs or against the filter criteria that you applied. Use the section on the right to take a quick view of the stats for your organization. For example, the number of candidates that have been hired, the number of candidates in an active interview process, the number of rejected candidates, the number of withdrawn candidates, and the number of projected hires.


Conversion Rates
You can view how TalentWall calculates the conversion rate for each step by hovering over the conversion rate: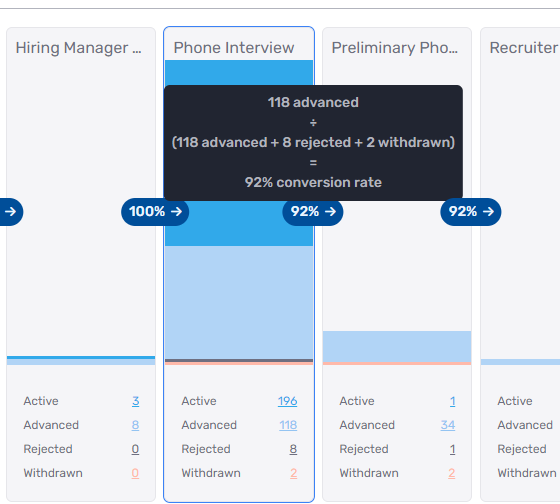 Click the colored bars within the different stages of your pipeline to access the full list of candidates that matches a specific status (such as Active) for the stage in question. You can also click the colored numbers at the bottom:
Funnel Segmentation
Funnel Segmentation will break down your aggregate pipeline by EEOC responses. Responses can be tracked by the following metrics:
Active: number of active candidates in stage for a segment;
Conversion: number of candidates advanced from stage for a segment
Withdrawal: number of candidates who withdrew from stage for a segment;
Rejection: number of candidates rejected from stage for a segment;
Ratio to hire: number of candidates needed to be processed (advance, reject, withdraw) per stage to make one hire

For those users with EEOC permissions, they will find a drop-down menu where they can segment the information by each of the four EEOC categories: Gender, Race, Veteran Status, and Disability Status.
Hover over the different information and read the tooltips to learn about the data that is displayed.
Funnel Segmentation by Gender

Funnel Segmentation by Race

Funnel Segmentation by Veteran Status

Funnel Segmentation by disability Status