Use interview phases to consolidate the various stages across different departments for standardized reporting.
Unifying stages under a common phase will allow departments to measure performance by the same milestones. Check out our video overview here, or read on below:
Only TalentWall admins can set up interview phases. To set up interview phases, hover over your blue icon in the upper-right hand corner and click on "Interview Phases":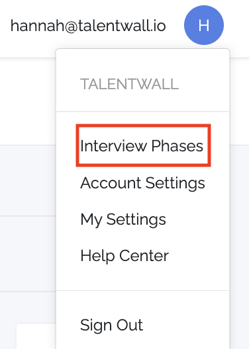 Click on the blue plus sign on the right to create a phase, then drag and drop the desired stages into each phase:
You do not have to create a phase for Application Review or Offer as we have Offer Acceptance rates here in Analytics:
https://app.talentwall.io/dashboard/widget-library/offers
Once you set up these interview phases, you will then see:
Conversion rates between stages when you click into the analytics of a job on the Wall, such as onsite to offer ratio.
Interview activity: You'll see in the Interview tab in Analytics week over week metrics and averages.
We count if an activity in a phase happened if one of the following is true:
If an interview was created in that stage, and that interview is now in the past. We will count this as an interview, regardless if feedback was submitted or not.
A scorecard submitted to this interview stage.
We will not double-count the interview if both of these activities have occurred.