Customize all your account settings here.
TalentWall admins can customize the account in the following ways here:


Account Name
In case your company name changes, you can update it here.

Time zone
Choose a time zone to set your account. This will standardize reports for your team if they are working across multiple time zones.


Fiscal Year
Choose the first month of your fiscal year.

Tag Mapping
TalentWall admins can associate an icon that appears on candidate cards with a specific tag so that users can quickly identify specific candidates on the Wall.
Source icons
Whether it's referrals, agencies, or social media, you can select which source icons you want to appear on a candidate card on the Wall.

Activity Color Settings
Choose when candidate cards become yellow, red, or gray to show how candidates are aging on the Wall.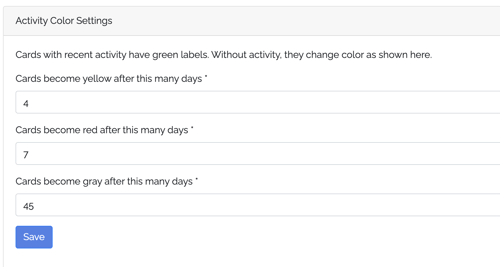 Job Status Title Settings
You can customize the colors of your job status titles here.
Initial Max Number of Bars Shown in Bar Charts
You can customize the initial number of horizontal or vertical bars shown in bar charts. Higher numbers may consume more memory and slow your browser.
Widget Configuration
Choose the Diverse interview widget target stage. At this stage or later the candidates will be considered in calculation for diversity.
Other Wall Settings
You can choose to show job id or hiring managers on the Wall.

Custom Offer Fields
Choose which custom offer fields you want to filter by.

Beta Features
Users can now opt in on their My Settings page but you can disable that ability here by checking the box next to "Disallow users from opting in to Beta Features".