Your Pipelines
The Wall will show you the pipeline of your roles in Lever where you can see all active candidates at any stage in the interview process:



Click on a candidate card to see the latest updates to a candidate's application, such as the most recent notes or scorecards. Perform actions like moving the candidate to the next stage:


Or make a note about the candidate and tag your colleague (they don't need to have a TalentWall account to see the note.) You can also archive the candidate in TalentWall, and all these changes will all be updated in Lever instantly.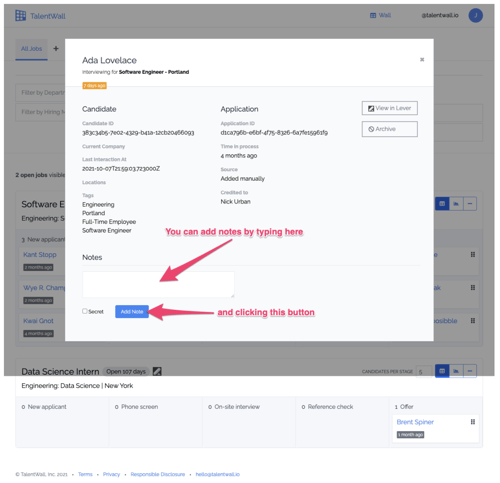 Dig deeper into the pipeline by clicking on the Analytics icon
on the top right of every role. You'll be able to see your active and rejected candidates, and the conversion rates for all stages:

External, Internal, and Unlisted roles will populate on your Wall, however Confidential roles will not.
Within the Analytics view, a sourcing panel sits to the left of your interview pipeline. This panel breaks down the candidates for each job in 3 categories:
1. Referrals - any candidate marked as a referral in your ATS
2. Outbound - any candidate who originated from a sourcing integration partner. This is only applicable if you have enabled our sourcing tool integration with Teamable.
3. Inbound - all other candidates
Organizing Your Wall
Using the job filters, you can focus on a subset of roles by selecting a specific department, location, hiring team member, or job. Create this as a new tab by clicking on the plus sign at the top so you can easily reference a set of jobs, such as all Product jobs in San Francisco.



Only departments and offices on on open roles will be displayed.
Filtering Candidates
To focus on specific candidates, use the candidate filters at the top to find candidates by their name, candidate tags, source, and who the candidate is credited to (the opportunity owner.) You can also filter by a candidate's interview status and last activity to see what actions need to be taken next on them:
For instance, if you want to follow up on candidates who haven't been scheduled yet, you can click on the calendar icon with an "x" to start reaching out to them to schedule their next interview, or you can click on the gray or red activity color status to follow up on aging candidates. Here is what the candidate color activity means:
Green: contacted less than 5 days ago
Yellow: contacted more than 5 days ago, but less then 8 days ago
Red: contacted more than 8 days ago, but less than 30 days ago
Gray: contacted more than 30 days ago
The color for last activity status is triggered by the last interaction associated with the job application.
To get an overview of all your hiring metrics, go to Analytics.