How to use the Request Management Screen
The Request Management screen lets you more efficiently manage in-process requests all from a single screen within Crosschq. The Request Management screen is now your default screen when logging into Crosschq.
Click on the Request Management screen in Crosschq, at the top of the page you will see the Key Performance Indicators for your Organization. Click the last week, last month, or last year to adjust the time period for your data.
The sorting/search bar is below the KPI metrics, click Open, Completed, Canceled, or All to sort Crosschq requests by status, team member, position, survey, or candidate name.
Note: Open requests are still in process, Completed requests are those that are completed, and Canceled Requests are those that have been canceled.
By clicking the team member drop-down menu, you can filter requests by the team member who created a request.
Click the search bar to further search requests by survey type, position, and candidate name.
This screen is intended to help users easily manage requests in one place. To manage requests from this screen, start by expanding the candidate information by clicking the downward arrow. Here you can Edit, Conclude, and Cancel requests directly from this screen.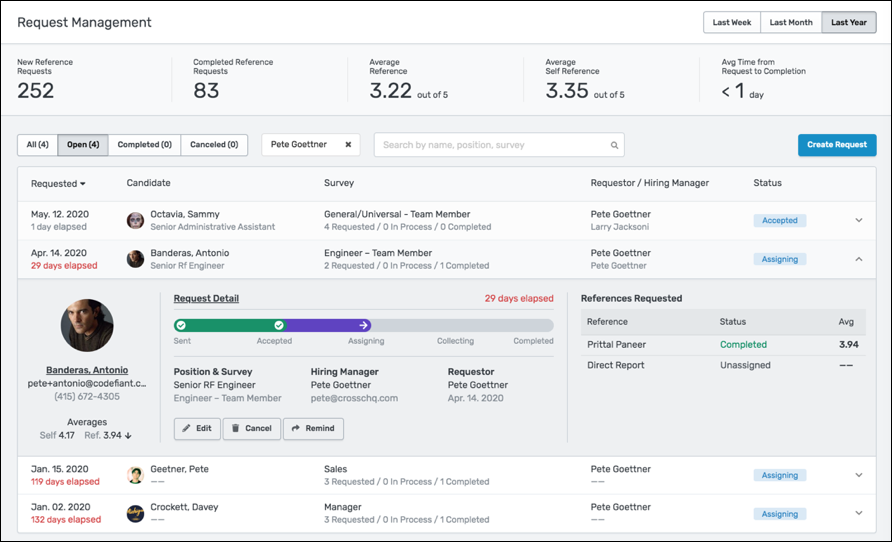 The request management screen is loaded with information to make it easier to understand request statuses.
Understanding Statuses:
Sent: "Sent: the request was sent to the candidate, but it has not yet been accepted."
Accepted: "Accepted: the request was accepted by the candidate who must now complete a self-reference."
Assigning: "Assigning: the candidate completed their self-reference and is now providing contact information for their work references."
Collecting: "Collecting: the candidate provided contact information for all requested work references. These are now being collected."
Completed: "Completed: this request has been completed and a Crosschq Report is available."
Concluded: "Concluded: a team member concluded this request and a Crosschq Report is available."
Canceled: "Canceled: this request was canceled by a team member before it was completed."