You can share a custom dashboard with your team or with stakeholders in three main ways.
Share Dashboard as a Tab
If the person you want to share the tab with has access to Analytics, then you can click on the arrow icon to share the tab with your colleague. (If they don't have access to Analytics, their name will not appear as you start typing it in the field for the recipient of your tab.)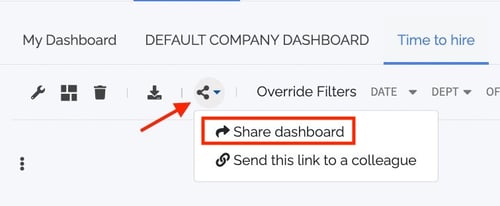 The shared tab will be added to your colleague's Wall and will always be there until they remove it. Any override filters you used at the time when sharing the tab will be reflected on the recipient's end. Note that if you share a tab, any updates you make on the original dashboard will not update the other user's tab.

Share Dashboard as a Link
You can also share a link to the dashboard with someone who doesn't have Analytics by clicking on the link icon: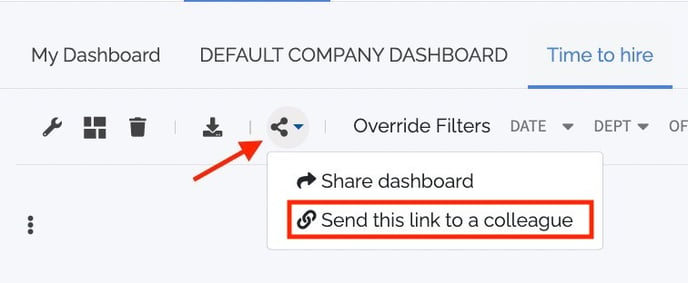 Any edits to the filters within the widgets of a custom dashboard will always be reflected with a shared link: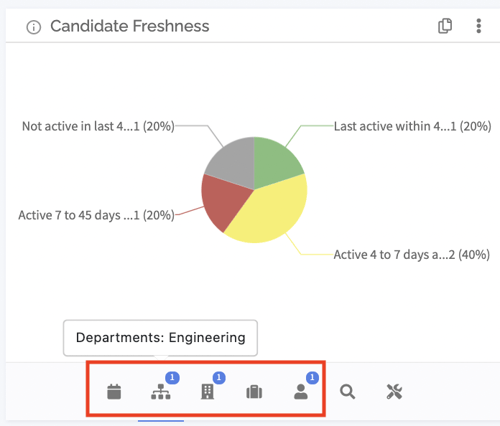 Any override filters used at the time you copied your link will also be reflected within the shared link.



Share with Slack
You can also share a dashboard with our Slack integration. Here's how:
TalentWall admins need to enable the Slack integration from the account settings page:


2. Users will then need to enable the Slack Integration from their individual settings page:



3. When you go to a custom dashboard, hover over the share icon and select "Share to Slack":




4. Select which Slack channel or individual you'd like to share the dashboard:


5. If you want, you can customize the text in the "Text to send" field that will be used in the Slack notification:



6. Both you and the recipient will get a Slack notification that the custom dashboard was shared:


7. When the recipient clicks on the link, they'll be directed to your custom dashboard; the recipient will need to have a TalentWall account to see the dashboard. Override filters that you used will be viewed by the recipient.

After setting up your Slack integration, you'll also be able to schedule when reports can go out: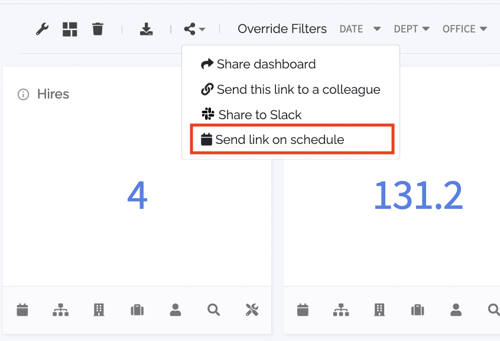 You'll be able to pick the dashboard you want to send, the frequency, and which person or channel on Slack you want to send it to: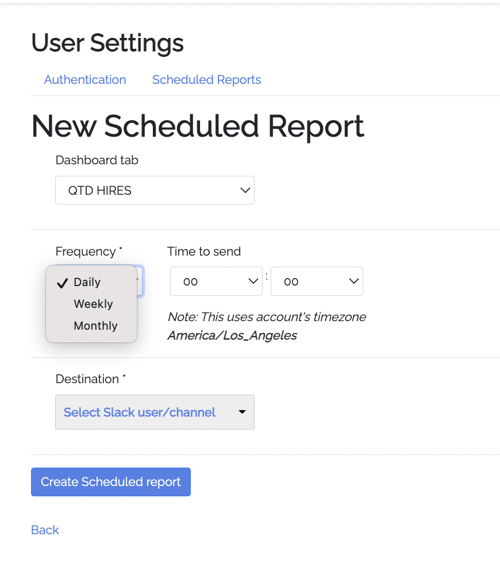 You can manage all your scheduled reports here.

Download the Dashboard as a PDF:
For users who don't have TalentWall, you can also download a dashboard as a PDF to share with them.