How to manage organization settings
Users with administrative permissions can edit Crosschq organization settings. To edit these settings, click the Organization Settings item in the left-hand menu.
Organization Profile
Here, you can enter information about your company. Click the Save Changes button to save your entries.
Scroll down to link your Crosschq account to Glassdoor. Optionally, click the Sync Automatically toggle switch to enable a daily update of your Crosschq Organization profile with the information in your Glassdoor profile.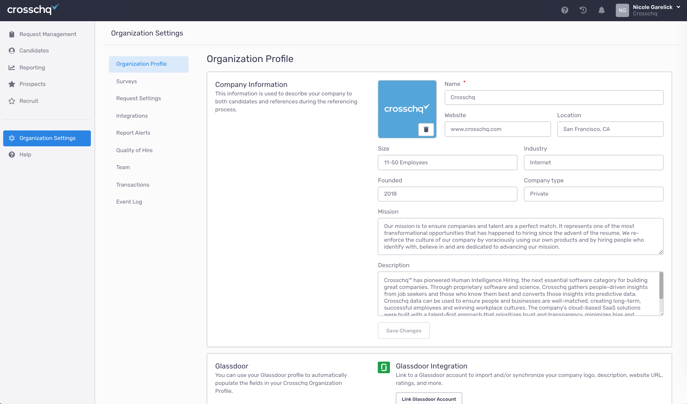 The Organization Settings menu contains a number of items for you to explore and edit:
Survey
Request Settings
Integrations
Report Alerts
Quality of Hire
Team
Transactions
Event Log
Surveys
Click the reference or self buttons to preview each survey and review the questions. To mark a survey as inactive, click the trash can on the far right-hand side, this way it will not be available for team members to use when creating new reference requests. To re-add inactive surveys, click the add more surveys button. As Crosschq releases new surveys, you will be able to add to your account by clicking the Add More Surveys button and selecting from there. NOTE: You must select at least one survey to be active.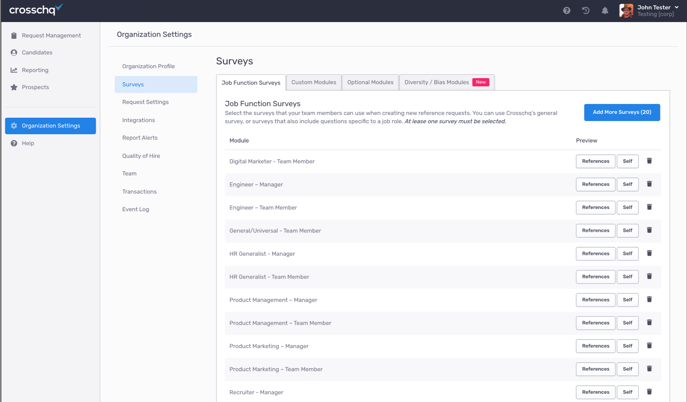 Request Settings
Here, click the drop-down to choose the frequency of reminders sent to candidates, and to enable the Auto-conclude feature for Crosschq request. To learn more about the Auto-conclude feature, click here.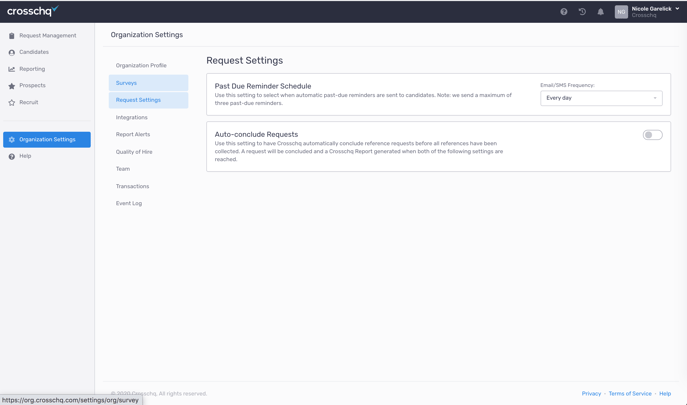 Diversity/Bias Modules

Crosschq offers an optional diversity survey module that collects gender, age, and ethnicity from candidates and references. The responses received to these optional questions allow Crosschq to analyze whether bias has an impact on reference responses and proactively make changes to surveys and reports if needed. This information is then shared with Crosschq customers as it is available.

It is important to note that diversity responses received from candidates and references will not be included in the Crosschq 360 report and are not available to recruiting or hiring managers during the hiring decision process. Whether or not to include the diversity module in surveys is a setting that Crosschq users control within the organization settings tab.

To enable this feature click on the Diversity/Bias Modules and select the preferred setting for your organization. There are three options:
Full - Demographic information is collected and stored by name for candidates and anonymously from references. This option must be selected when using Crosschq's New Hire Analytics Diversity & Inclusion product.
Anonymous - Demographic information collected anonymously from candidates and references.
None - No demographic information from candidates or references is collected.
The default setting for all accounts is FULL. Select the setting that is preferred for your organization and it will automatically be updated for your account.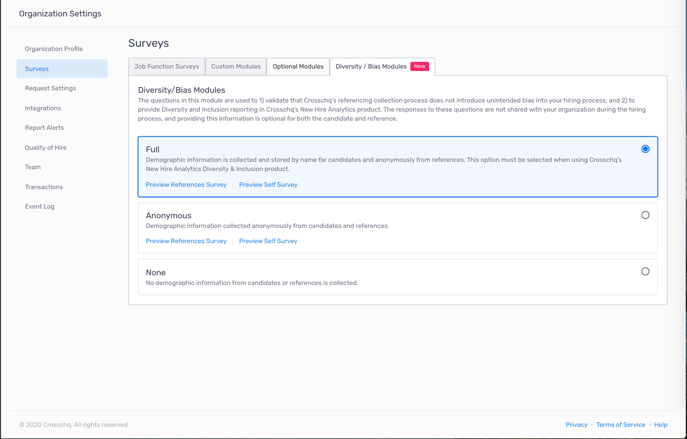 Integrations
For more details on how to manage your integrations, reach out to support@crosschq.com or visit the Integrations section of the knowledge base.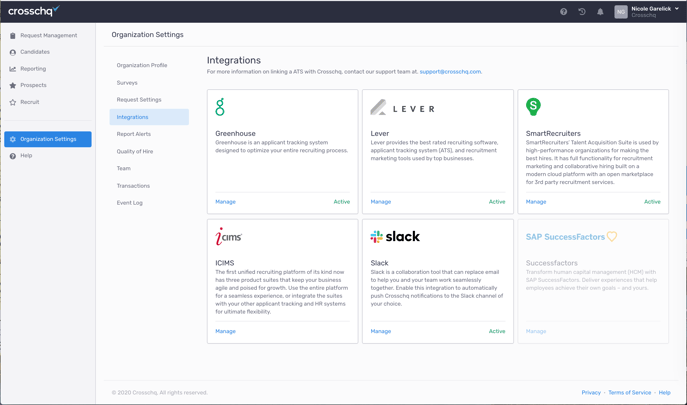 Report Alerts
On this settings page, you can enable or disable various alerts by clicking the toggle for each alert. Any alerts that you enable will appear in the Crosschq Candidate report.
For the Reference Average Threshold, enter a number in the field that represents the threshold for the number of candidate references. An alert will appear in the report if the calculated Reference Average from one or more of a candidate's references falls below this threshold.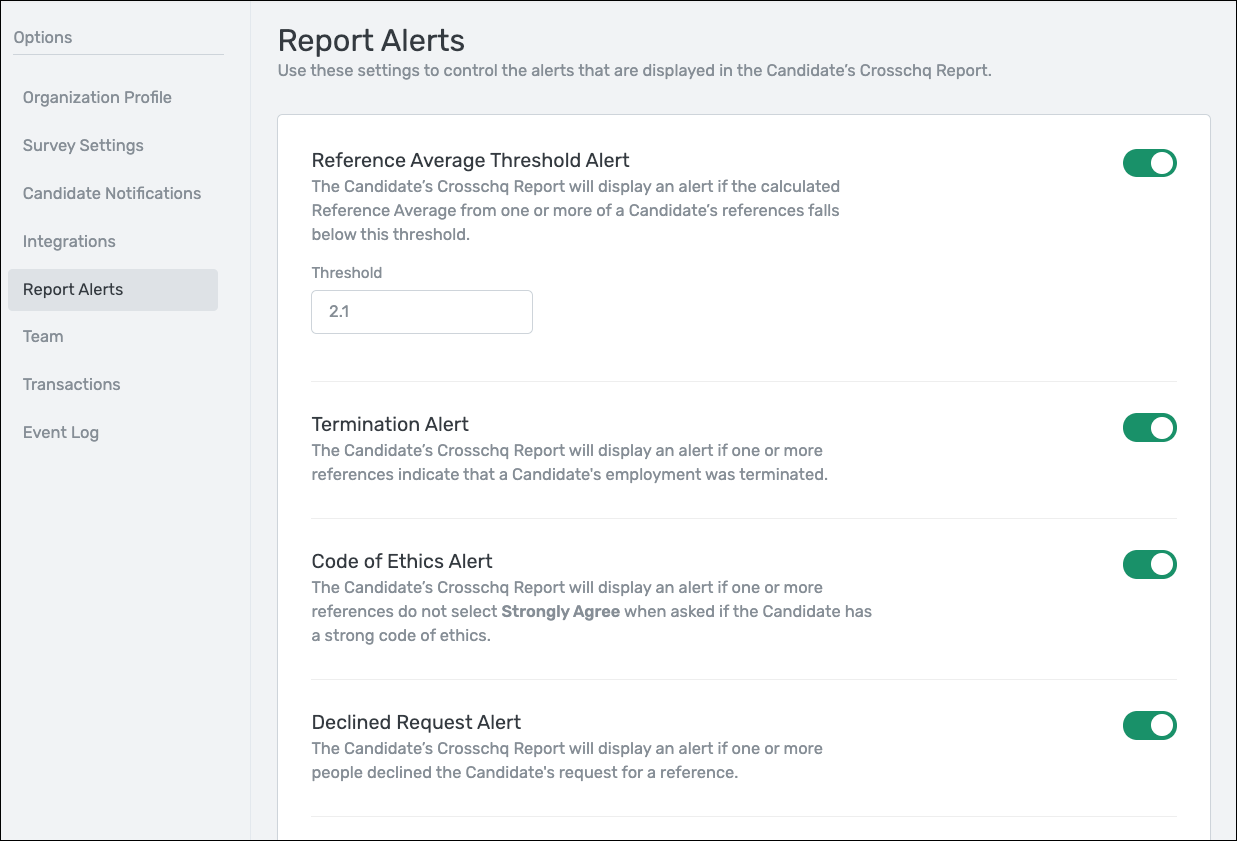 Quality of Hire
Within the Organization Settings tab, you can enable the Quality of Hire Feature for your Organization. To learn more about that feature, click here.

Team
Here, you can manage user accounts for your team. Learn more in the User Types and Permisssions article.

Transactions
This page lists all recent transactions for your organization.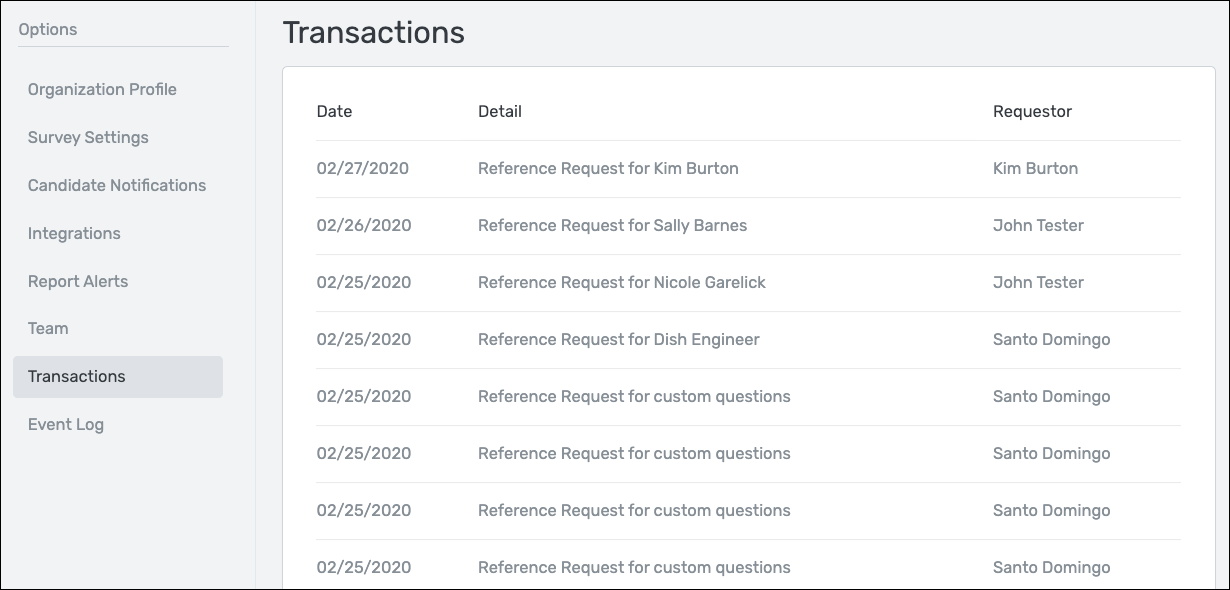 Event Log
This page lists all recent entries in the event log.