How to manage organization settings
Users with administrative permissions can edit Crosschq organization settings. To edit these settings, click the Organization Settings item in the top-right menu using the settings wheel.
The Organization Settings menu contains a number of items for you to explore and edit:
---
Organization Profile
Here, you can enter information about your company. We recommend filling out this page as this information is exposed to both candidates and references so they have context on who the Crosschq request is being sent from.
Click the Sync Automatically toggle switch to enable a daily update of your Crosschq Organization profile with the information in your Glassdoor profile. If at any time you need to unlink your Glassdoor account, select the Unlink account button. Additionally, you have the option to sync manually when updates are made so you don't have to enable automatic syncing.

If your organization doesn't have a Glassdoor page, you enter your company information manually. Once the necessary information has been completed select save.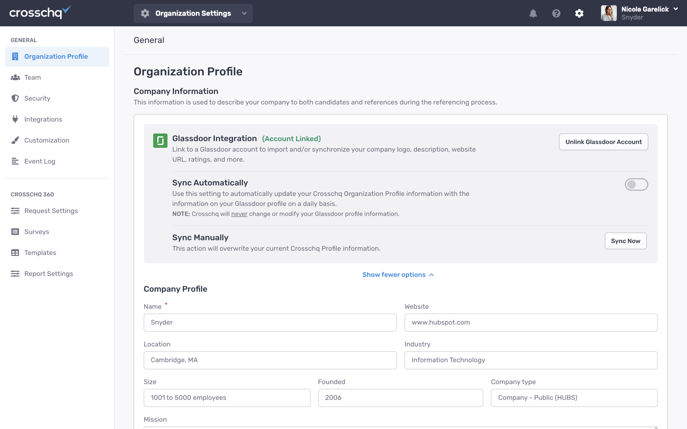 After entering the company information, you will have a chance to upload your company logo and personalize your account.
To begin, upload your organization's logo into the Icon/Square logo section. Select the image you want to upload, save it, and then select upload.
Then you will have the option to upload your organization's full logo. Select the image you want to upload, save and then select upload.
Finally, select the color you would like to utilize for branding/customization purposes. On the right side, you will be able to see a preview of what the account will look like. Click the link to preview a branded survey.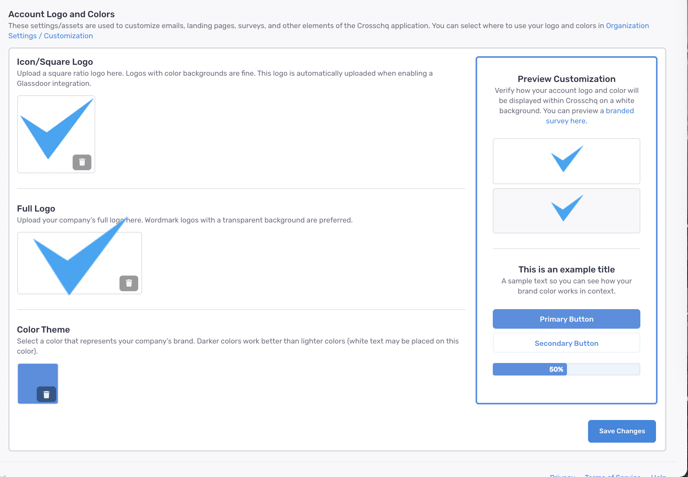 Team
Here, you can manage user accounts for your team. Learn more in the User Types and Permissions article.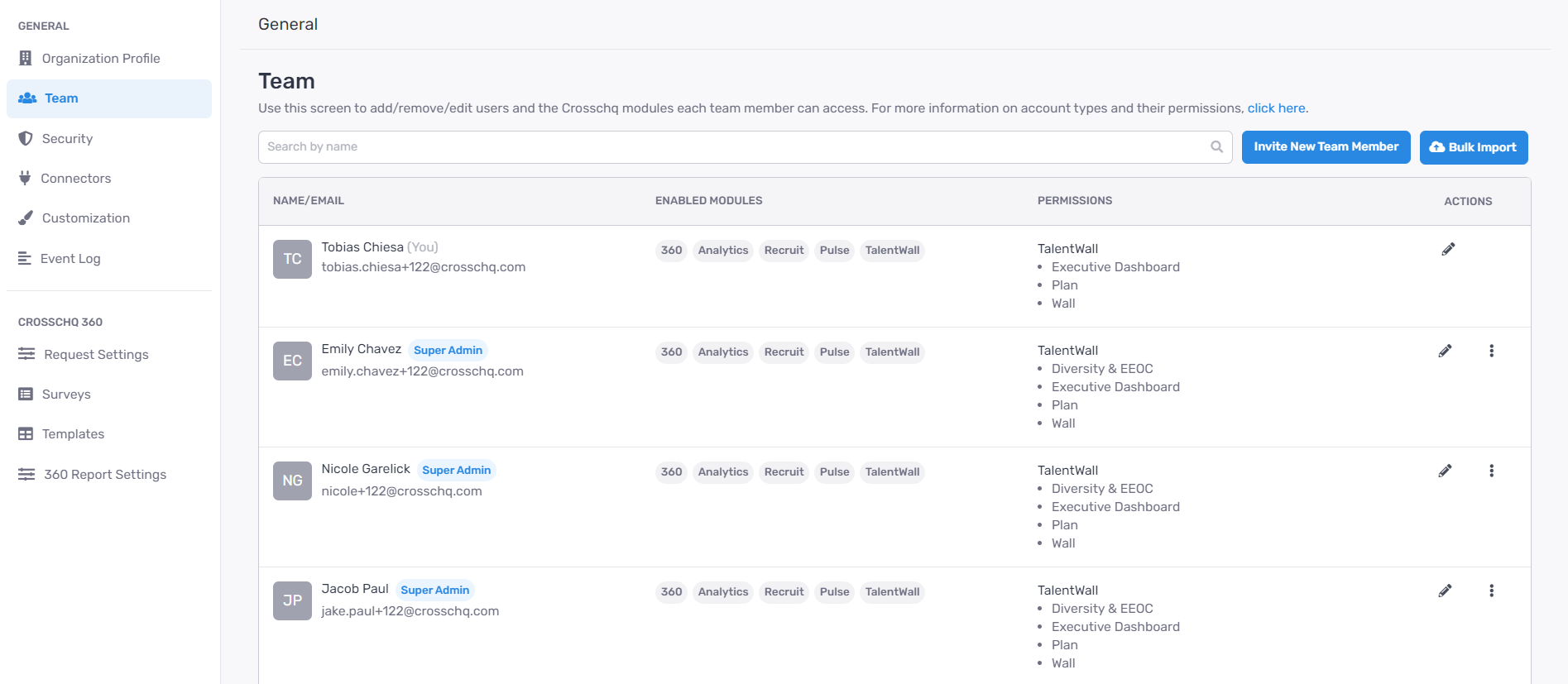 Security
Within the Security section you will be able to:
Enable SSO for your organization. For more information on how to do so click here;
Enable/disable PDF generation for your account for Crosschq Reports depending on your desired sharing preferences.
Set candidates as "Private" by default. This setting will set candidates as "private" whenever a new request is created.
*Note: private candidates and their 360 Reports can only be viewed by the requestor/recruiter/hiring manager on the request, or by Super Admins. If another user wants to view a private candidate's report and does not meet one of these conditions, use the secure sharing feature to share the report. Click HERE to see how to share private candidate reports.

Connectors
For more details on how to manage your Connectors, reach out to support@crosschq.com or visit the Connectors section of the knowledge base.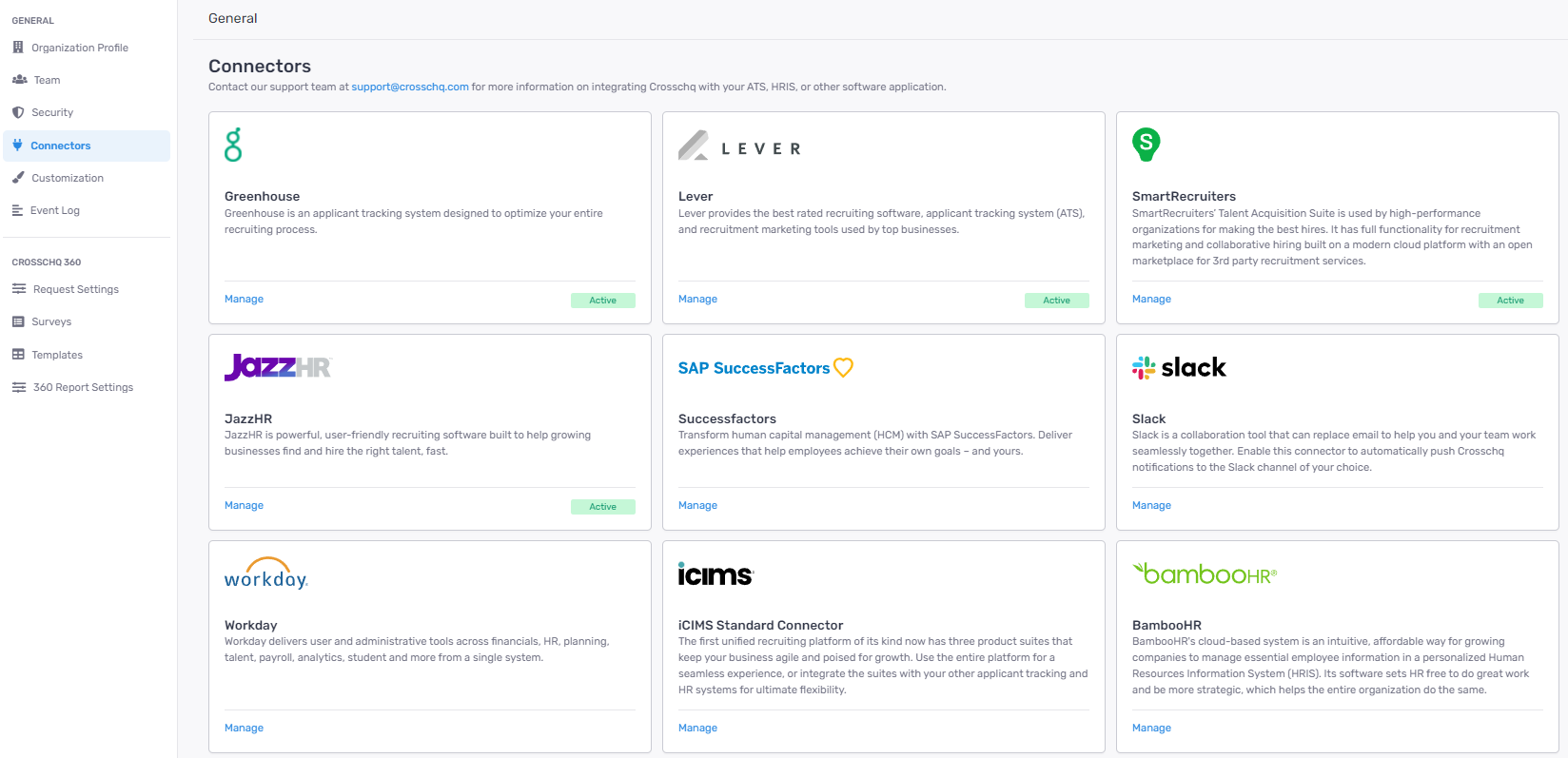 Customization
The customization tab allows you to control the way your surveys and reports appear to candidates and references. To apply company logos and colors, edit the logo and colors within the Organization Profile section and apply here by enabling the toggles you would like to be on.
There are three options, you can apply company logos to communications/surveys, Crosschq 360 reports, and Crosschq Analytics. Your organization can control which of these are enabled for your account.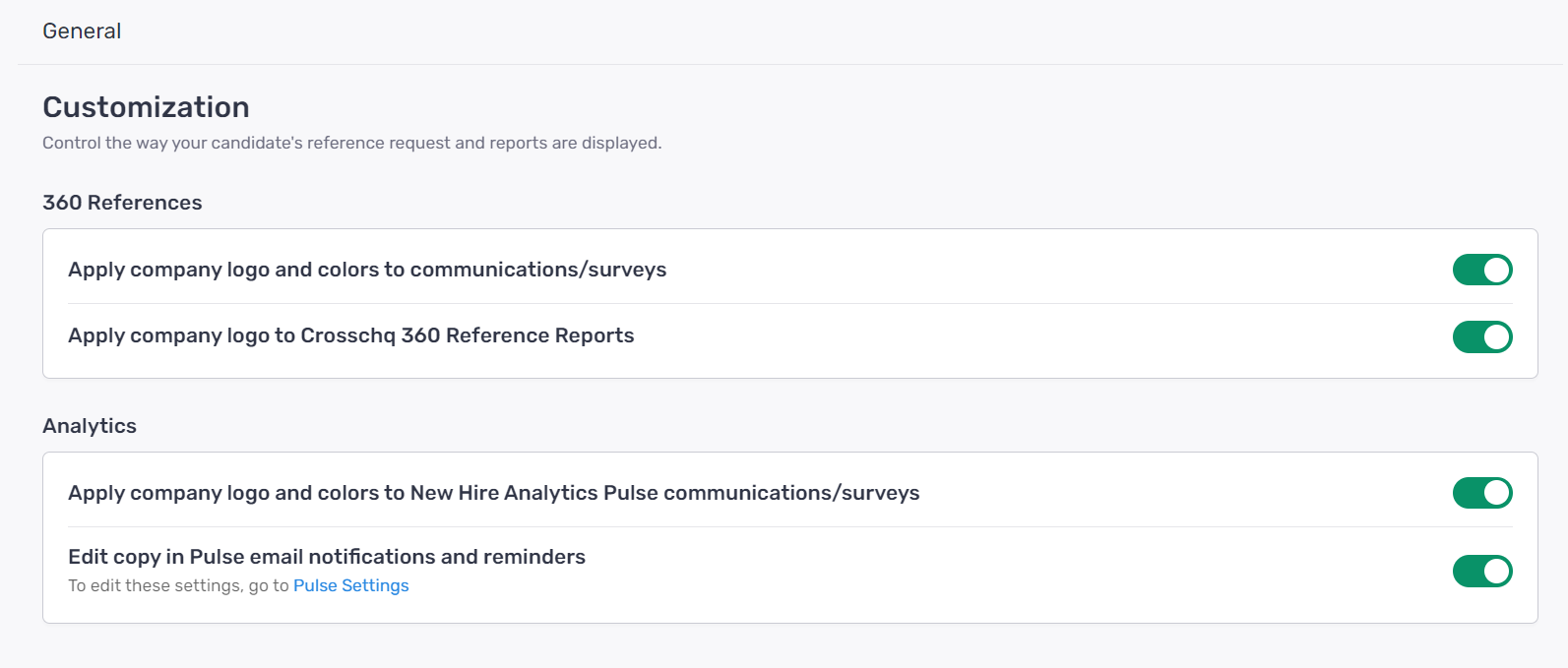 Event Log
This page lists all recent entries in the event log.