Understanding user types and permissions
There are four types of users in a Crosschq organization: Super Administrators, Administrators, Team Members, and Viewers.
Super Administrator: have complete access to all settings, reports, and modules. Organizations can have more than one Super Administrator.

Administrators: can invite/manage other users, can manage account settings, can make requests to candidates, can view reports that are associated with their name, and can view all non-private reports. Administrators can also access all modules and grant access to 360, NHA, and Recruit.

Team Members: can invite Viewer users, can make requests to candidates, can view reports that are associated with their name, and can view all non-private reports. Team members can also access all modules they have permission to access such as 360, NHA, and/or Recruit.
Viewer: can view all reports that are shared with them.
Here in this article, you'll learn how to:
Add a user

Select account type

Deactivate/Remove a user account
Add a user
To add administrators, team members, and viewers, you need to have administrative or team permissions. Follow these steps to add a team member:
Log in and access Organization Settings.
Click Team menu item, as shown in the figure below.
Click Invite new team member, enter in the first name, last name, email, and select the account type for the user you would like to add to Crosschq.
Select the Modules you want to give the user access to by clicking on them. (Selected modules will appear with a blue box around them. Please note, Viewers will only have access to 360)
The new user will receive an email message containing a sign-up link. The user should follow the procedure given in Creating an Account.

Resend a new user invitation: If there has been a delay, a new user may have a problem finding the email message. If necessary, locate the email address of a new user on the Invite New Users tab and click the Resend Invitation button.


Bulk Add
To bulk add users to Crosschq, select the Bulk Import button.

Import a CSV file that contains the list of users you would like to invite to your organization. This CSV should have three columns: Email, First Name, and Last Name.
Select the permission type at the top of the screen that you want to apply to the group of users and select send invitations. Crosschq invitations will then be sent to users.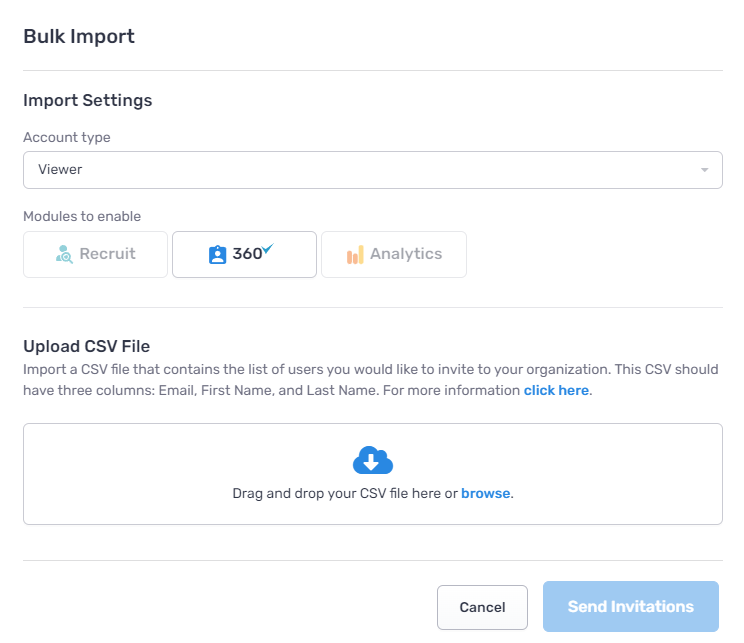 Deactivate/remove a user account
To deactivate a user account, locate the name in the Team tab and click the Deactivate Account or Remove Account buttons.